Random
* If I were a Brazilian soccer player, this would be my jersey: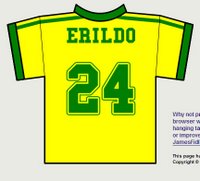 * This would be HH's:
* In other news - the Fuzzy barn cat had kittens again. Well. Kitten. She brought it to the porch tonight. Gee, thanks. The kitten is all white (well, cream) with black ears. Soooo cute. I also found 2 more kittens this evening. Orange and white and black and white. Yay!
* My mother is FINALLY getting her bathroom remodeled! Thank goodness! The house was built in 1880 and they have no shower on the bottom floor. Plus the bathroom used to be the kitchen (no idea how that worked as the bathroom is teeny tiny). Meeting Wednesday to finalize stuff. I'm very excited for her!
* Last, but certainly not least - my mother (and father) bought a golf cart! She's wanted one to go from our house to their house for some time now. I can't argue with it since it's safer than the 3 wheeler we currently own and the 4 wheeler we previously owned. Besides, Lucy LOVES riding on it. Not that that had anything to do with the purchase. Heh.
It's lots of fun to drive. Now it just needs fixed up. MTV! Pimp my golf cart!